Where every day is a festival and every festival is celebrated like a family occasion
The Township With Right Home Factor
Bring your Childhood days back at Kids Play Zone
Casa Greens Introduces Shuttle Service
CASA GREENS - CYCLE CLUB
Life at CASA GREENS
Enlighten your life with the aroma of luxuries at Casa Greens
Happiness at your Home
Casa Greens Junior IPL
ECO-FRIENDLY LIFESTYLE AT CASA GREENS
Whether it is Ganesh Chaturthi or Independence Day we have always believed that festivals are just a reason to bring the community closer and spread the message of harmony. Therefore we at Casa Greens, Indore organize festival events collectively with the active participation of residents wherein they get a chance to meet each other and accomplish a sense of oneness.
These festivals not only bring a sense of harmony but also provide an excellent opportunity to take a break from your hectic routine and spend time with your family. We organize these events keeping in mind that every family member enjoys it and keep the sweet memories of togetherness forever.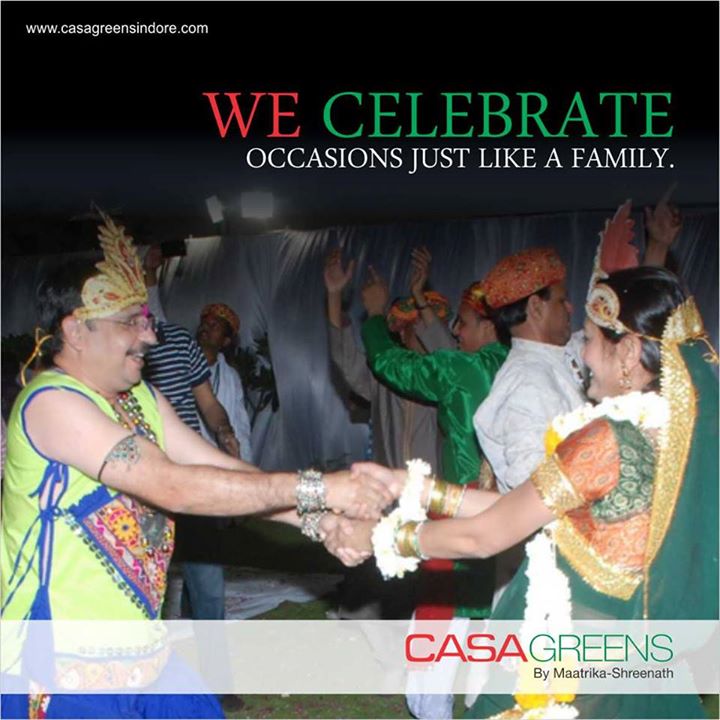 A township abides you with the life of fulfillment and real happiness. Casa Greens is poised to benefit you from the infrastructural developments. The township tastefully designed with premium bungalows and flats. With its best proximity to premium landmarks of the city offers you more time for yourself and your loved ones. Casa Greens signifies quintessential trust, innovation, and quality. The township offers you a spectacular view of each and every residence. It offers you a host of facilities like shuttle-service, badminton court, kids play zone, etc. A township surrounded with natural resources so that nature's cosmic energy directly reaches your doorstep to create a peaceful environment around you. This is also the reason why all the residences are built by adhering to all Vaastu constraints. The township - here all shades of nature are present with a reach of all modern amenities and luxury.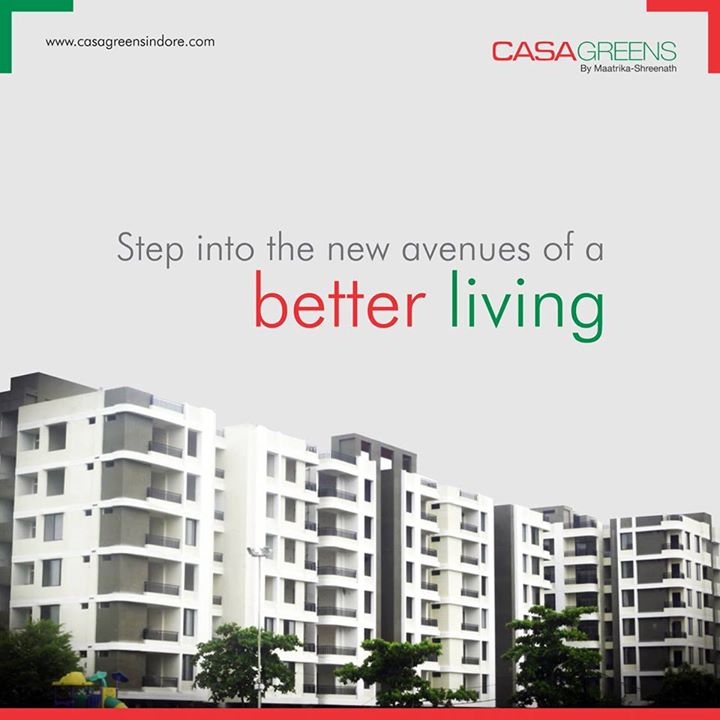 Give Childhood back to Children. Today's generation has a new trend of playing indoor games like computer games, television, and video games but this new trend can be harmful to your kid. Physical activity for kids is very important and Casa Greens have come up with their new amenity of the Kids Play Zone. Now your kid can enjoy his evenings after coming back from a hectic day at school with a lot of outdoor games and activities at your township. Let your child get out of home now in a safe and fresh environment to enjoy the beauty of nature and his childhood days. Our Play Zone is designed to give moments of relaxation and enjoyment to each and every age group.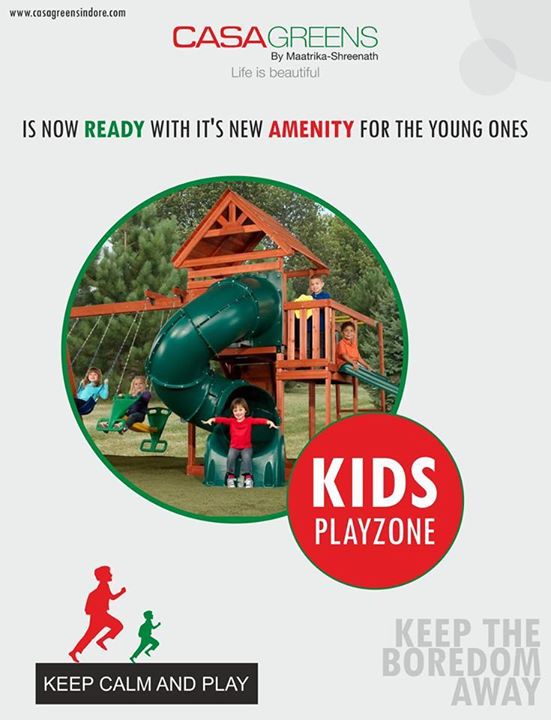 Casa Greens always cares about its residents and in the lieu of that it has ensured that every resident has the convenience to travel. Introduction of Shuttle Service from Casa Greens Township to bus stop is a boon for those commuters who have to face long journeys in times where fuel prices are rising every month. There will be several runs between morning 9:00 am and evening 6:00 pm and we ensure that the journey is comfortable and secure. Casa Greens understands what its residents need and considers it as not only a duty but a responsibility to fulfill it.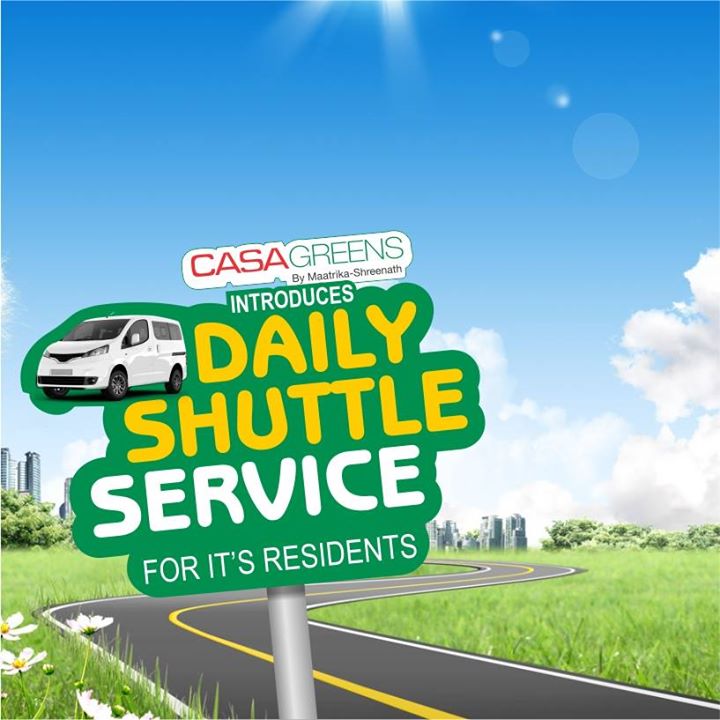 It is by riding a bicycle that you learn the contours of a country best since you have to sweat up the hills and coast down them. Thus you remember them as they actually are, while in a motor car only a high hill impresses you and you have no such accurate remembrance of the country you have driven through as you gain by riding a bicycle.
CASA GREENS is one of the only townships which has taken a step towards environmental welfare. It has started eco-friendly rides for its residents which will not only take care of their fitness but will also help in preserving the environment. Whether it's to boost your fitness, health, or bank balance, or as an environmental choice, taking up cycling could be one of the best decisions you ever make. Cycling is real fun when you are totally surrounded by fresh air, green trees, and your family. Casa greens provide it's residents bicycles, to roam in and around the township. The residents may pick from one stop and drop the bicycle at another stop. Joining a club is a great way to get the most out of your cycling. Bicycles provide numerous benefits by comparison with motor vehicles, including the sustained physical exercise necessarily involved in cycling, that cycling involves a reduced consumption of fossil fuels, less air or noise pollution, much reduced traffic congestion, easier parking, greater maneuverability, and access to both roads and paths. Come and join our cycle club only at casa greens. A step for a better tomorrow.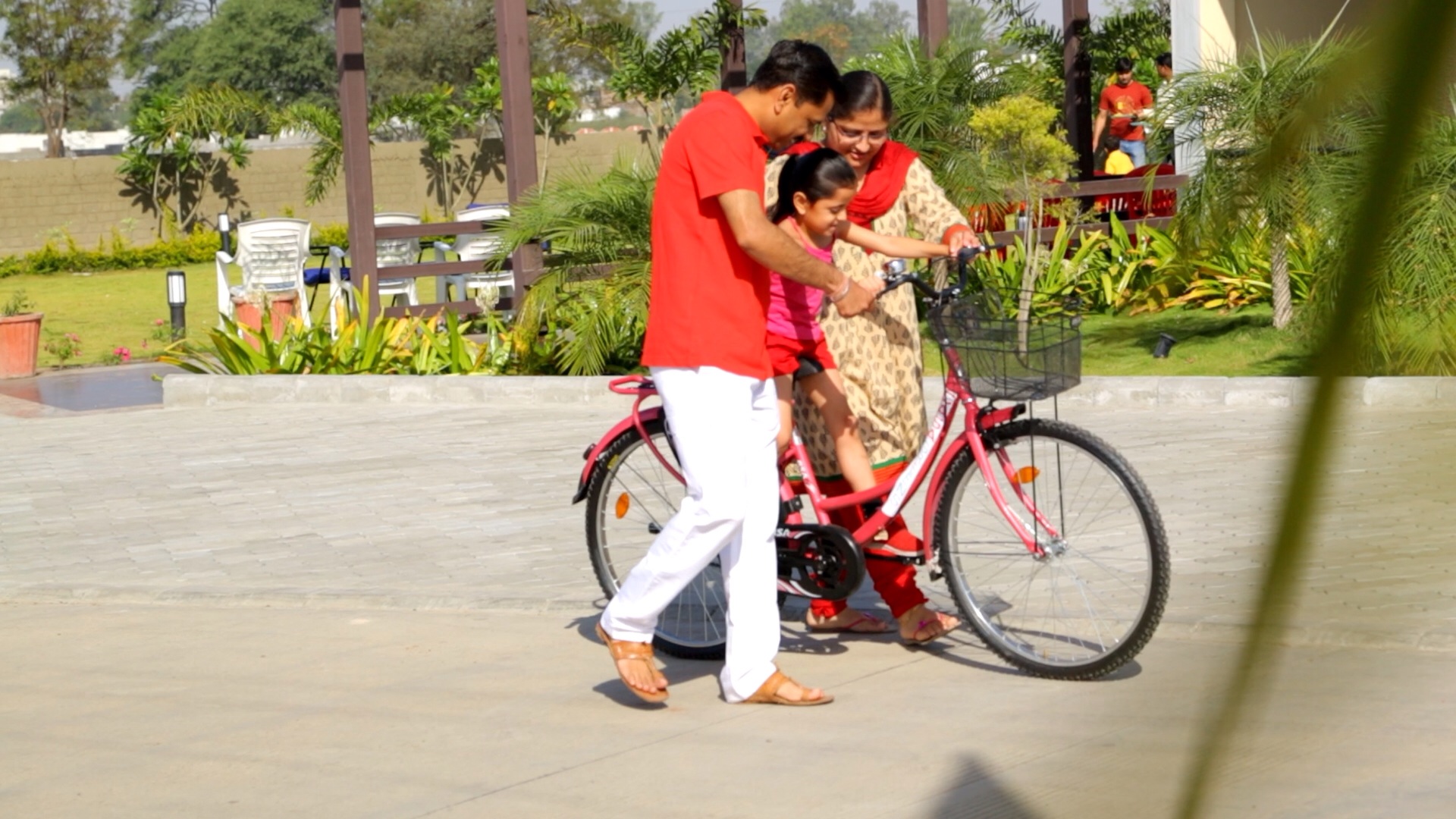 CASA GREENS is a vision that is set to change the real estate scenario in Indore. CASA GREENS is not just a real estate project but it's an inspiration to live life to the fullest. There is a special feeling of living in a township. A feeling that is made all the more special when the township is constructed keeping in mind the taste and need for a comfortable yet beautiful lifestyle. CASA GREENS is the only place in INDORE where you can find heaven, a heavenly environment with greenery all around. The very concept of CASA GREENS invokes the feeling of togetherness; you feel as if you belong to a large family. There is a sense of love and security all the time. Everything has been constructed in accordance with modern trends and its layout is easily on par with the best in the country. Living in a township like CASA GREENS allows you to live life to the fullest, bringing in a work-play balance in life because of all that is offered – from a cricket net practice facility, clubhouse with swimming pool to a fitness center with steam bath facility. To experience the good life, one not only needs time but the means as well. At CASA GREENS you come closer to experiencing the good life, the joy of living. CASA GREENS has committed to deliver Best quality and lifestyle by well-planned flats and independent bungalows in Indore. The flats are luxurious, built of quality construction with modern design. Therefore, you can choose the one that suits you best.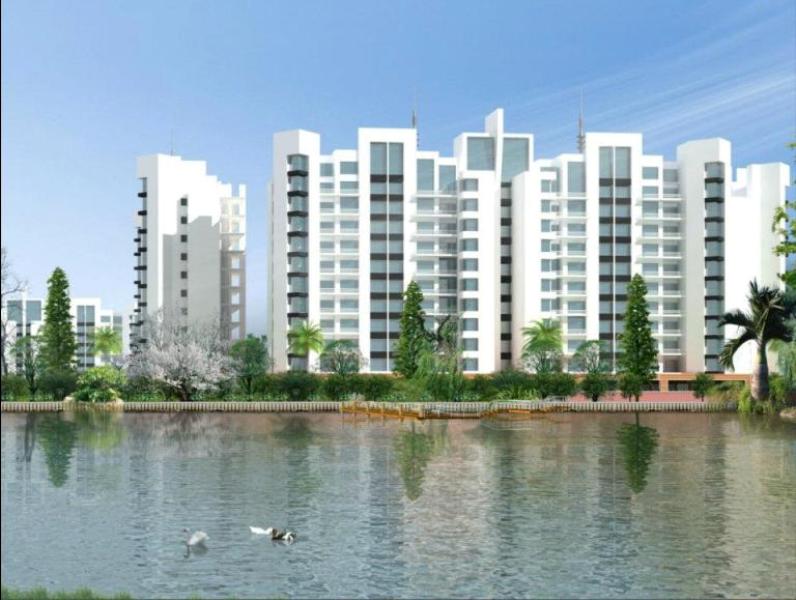 With world-class facilities at Casa Greens life is all about comfort and class. Lavish 3-4 BHK bungalows at Casa Greens are designed with a vision to give you a feeling of contentment and pleasure, we also provide Club-house with a swimming pool, well-equipped gym, Shopping Center and more facilities at one place for your recreation and leisure. The rich interiors and the cozy ambiance of our bungalows will surely embellish your life with ease and elan. Our luxuries bungalows are uniquely designed with a spacious living room, exquisite bedrooms, and modulated kitchen to give you a soothing and pleasant stay at your home. Casa greens also have a lot of open spaces so that you don't miss the beauty of nature. The active and invigorating aura of the township will give you a flight above all the stress and appease your tension. The beautiful setting and stylish décor at Casa green will make you spellbound. We believe in providing delight and satisfaction to you with our grandeur architecture. Casa Greens is constructed with the fragrance of ravishing luxuries and solace and you can choose the one that suits you the best. So come and fly in high spirits with us at Casa Greens.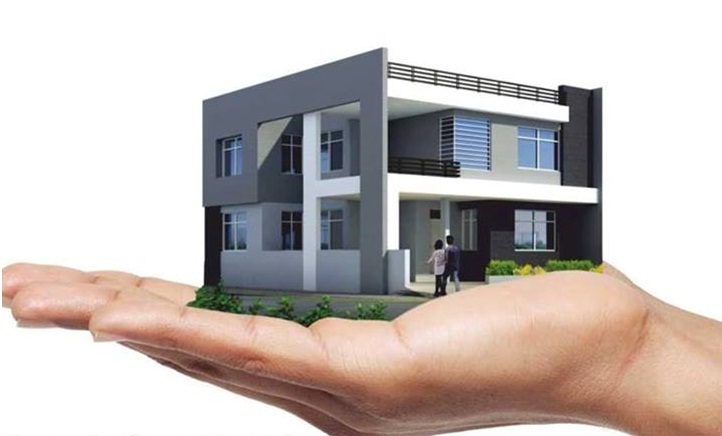 Looking for happiness???
Come to Casa Greens and experience the special and the best. The lavish 3-4BHK Royal Corner Bungalows is a fine example of this luxury. Enclosed with posh locality and security with all modern amenities like Club, Shopping Centre, Swimming Pool, Gym, Wi-Fi zone, and many more. A Royal Corner Bungalow created with designer living rooms, modulated kitchen, spacious bedrooms with a beautiful view from the balcony, and a parking lot. Corner Bungalows gives you the facility of the Cozy garden area with a beautiful view of sunrise and the sunset. The first sunrise at your home, extra parking area beside the bungalow. A Township nearby all important places like Super-Corridor, Malls, Hospitals, and many more places. All the facilities are in one place. So come and visit Casa Greens Royal Corner Bungalows and relish your life.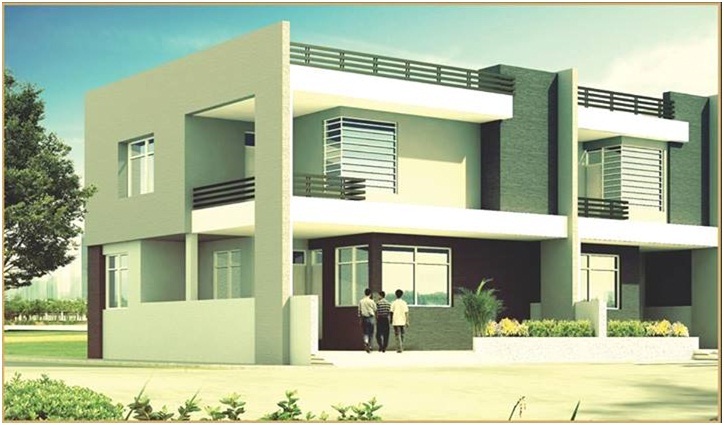 As the cricket fever is all set to grip the country with the seventh season of Indian Premier League (IPL), we are also planning to give you and your children the treat of IPL junior only at Casa Greens. Registrations open for your juniors from 9th April to 18th April so, hurry!!! You can register at casa greens township, talawalichanda or you can also register online on casa greens at http://www.casagreensindore.com/registration.html It's time to give your child the freedom to play, learn and enjoy the vacations with his/her beloved sport. It will be played by your juniors and you will be there for cheering them with game spirit and sportsmanship. It's a great chance to spend vacations and time with your juniors and to remember your childhood. Juniors under 12 years (CBSE or ICSE) can register for the Junior IPL. Register now!!!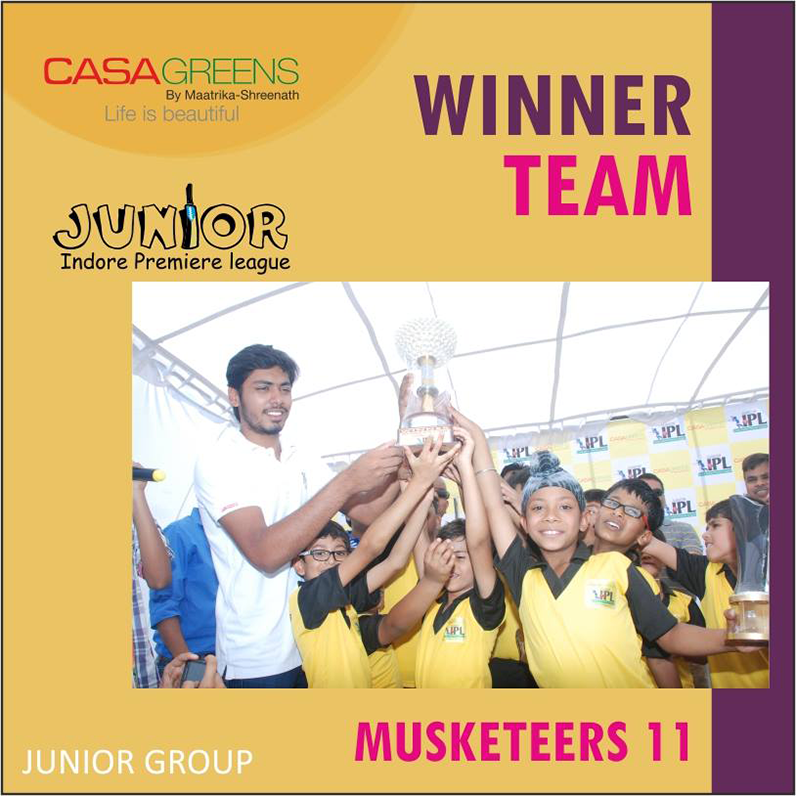 Step out of your home to feel the difference of living in a world-class aesthetically designed township sprawled over acres of cascading greenery. Enjoy all the luxuries of life with our modern world-class residences in Indore. Indulge your senses in the infinite glory of nature with landscaped parks, lush green open spaces with a variety of flora & fauna. We have filled the project with several factors that will compel you to make it your home. Backed with several successful ventures, benchmarks established since our individual inceptions and the high level of trust and expectations generated after our collaborations. All the amenities have been incorporated with the sole objective of making your home, a sweet home. With a natural lake in the vicinity, water recharging facilities, heavy plantation and well maintained lush green gardens, CASA GREENS has done it all to secure the comforts of an eco-friendly environment for generations to come.